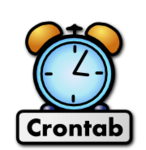 About
:
https://github.com/cronie-crond/cronie
Applicable models:
x.64 series, ARMv8 series
Applicable TOS4:
4.1.27 or later versions
Applicable TOS5:
5.1.17 or later versions
App download:
https://tmnascommunity.eu/download/cron_okm/
Module WebUI for additional settings can be accesses at
TOS4: http(s)://yournasip:port/modules/Cron_okm/www
TOS5: click on
Support & Help
from app description inside the App Center
How to manully install this app on TerraMaster application store?
About
This module implements a CRON daemon for use by administrators and other modules to periodically run jobs on the NAS. To simplify job management and to be more flexible this module uses a combination of CRON and Anacron to provide different ways to inject jobs.
Cron is a time-based job scheduler in Unix-like computer operating systems. Cron enables users to schedule jobs (commands or shell scripts) to run periodically at certain times or dates. It is commonly used to automate system maintenance or administration, though its general-purpose nature means that it can be used for other purposes