About:
http://www.crushftp.com
Category:
Last version:
10.1.0.0
Applicable models:
TerraMaster x.64 series
Applicable TOS:
4.1.27 or later versions
App download:
http://s.go.ro/5cfysjf6
Required packages:
OracleJRE8
> 8u271
Module WebUI for additional settings can be accesses at
http(s)://yournasip:port/modules/modname/www
How to manully install this app on TerraMaster application store?
user : crushadmin
pass : terramaster
If is the first installation, you have to create the user crushadmin from the module WEBUI
CrushFTP - Enterprise Grade File Transfer for Everyone
http://www.crushftp.com/
SECURE PROTOCOLS
SFTP - This uses a SSH connection to perform file transfers. Public / private key authentication can be allowed or password-less logins. SFTP is not well suited for high latency connections though. Almost any SFTP client is supported.
SCP - Secure copy also uses SSH, but is meant for pushing a single file transfer as fast as possible. Its not well suited for directories, or for downloading if you don't know the exact file name already. Almost any SCP client is supported.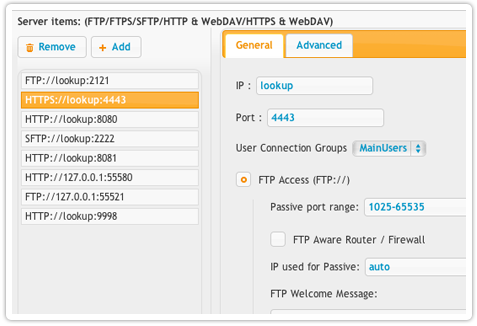 DASHBOARD
The server dashboard shows you summarized information about what the server is doing. You can see things like the number of active connections, free drive space, recent login list, memory usage, server port status, and history graphs about bandwith and memory usage. You can drill down into appropriate items to see more details and monitor specific users or actions the server is doing.
AD-HOC SHARING
You can allow users to create temporary links and shares to files and folders. These links self expire after the set interval. You can customize all aspects about the sharing interface including what items are visible, their default settings, custom email body, colors and fonts, and the method of share to use.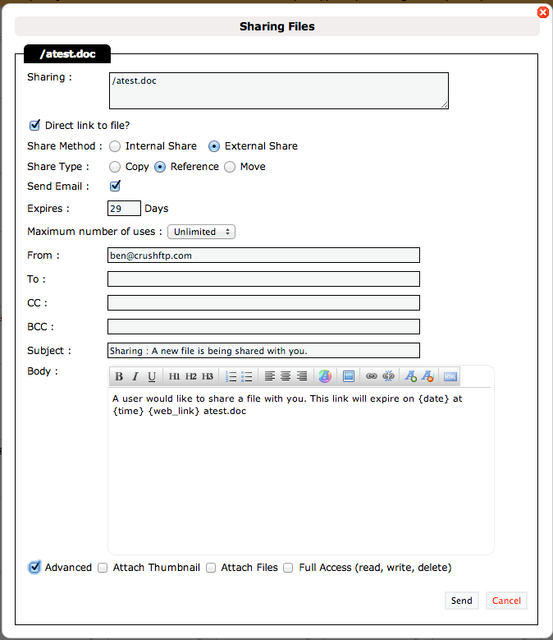 EVENTS
Event actions that are user customizable. They can generate emails with a list of uploads a user just made, or many various other tasks. You can customize events down to extreme detail. Events can be used to run various plugins which then perform other tasks as well (such as the CrushTask plugin.)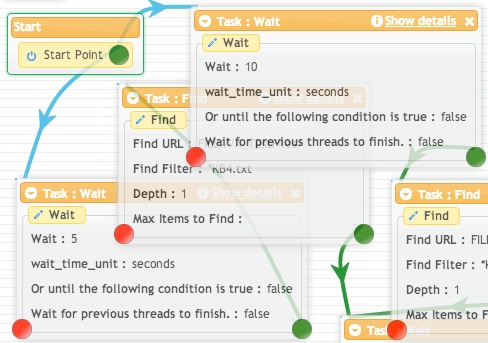 CUSTOM WEB FORMS
The WebInterface allows you to specify custom forms for welcoming a user on their first visit to your site (such as acceptance of a legal disclaimer), or for asking for additional information about uploads. This data can be further processed in email notifications, or written to XML files using a CrushTask as an event in the user's setting in the user manager.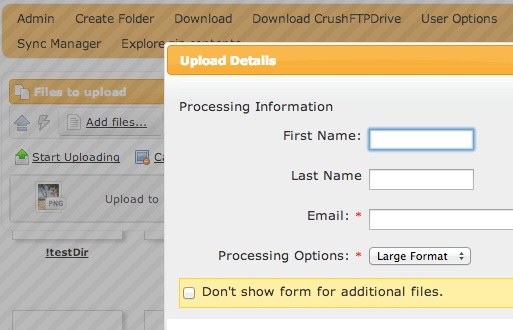 THUMBNAIL PREVIEWS
The WebInterface is a rich interface allowing for stunning visual displays of its files. Images, PDFs, Documents can all have previews of their contents generated into thumbnails that the user will see at a glance in the WebInterface. You can allow the user to view these thumbnails in large forms for slideshows, or quick previews. Movies can be handled also. Still frames are generated automatically from the movie so you can get a quick overview of the movie as your mouse hovers over the icon. You can also allow users to play movies directly from the WebInterface.